The Democratization of Business Animation Videos (with Powtoon Review)
I've long been a fan or the hand animation style videos created and made famous by Lee LeFever of Commoncraft. Commoncraft have since been copied by many but they can still get expensive. We've all seen Commoncraft videos, perhaps we just don't know the brand. They have many immitators – I made a list of Business Video Animation companies. I really liked Cuillin Collective and hoped to create such a video for Listly. (I also love the RSA Animation videos like this one for Sir Ken Robinson's story on Education Reform)
What stopped me? Two things: expense and uncertainty. I was conscious of the cost. I was even more conscious that I didn't know what I wanted. I expected I'd create one video and want to tweak or change it, thereby making the whole process at least twice as expensive.
There's no denying video animation is an awesome way to communicate.
I'd also talked to JC Little (The Animated Woman) about creating a Listly cartoon character. I was getting ahead of myself. JC is amazing if you don't know her. Totally worth exploring her work. I'm a huge fan. She made us some cool samples.
In my research of Animation tools I found  ToonTastic. I  used and paid for character sets in their iPad app. It is totally awesome fun and takes interactivity and toon making to a whole new level. Their focus is on kids.  It wasn't possible to make a business video (or remove their branding). I talked to the company and they weren't interested in offering a business class product or providing their authoring tools. So I stalled the project.
Recently via this List on Listly I discovered Powtoon.com as a solution to let me iterate and discover how to tell Listly's story. I'm pleased to report I'm making excellent progress. Well you tell me. What do you think?
1
Listly - Curating Life, Your Passions & Your Community
Aug 25, 2012 - youtu.be -

118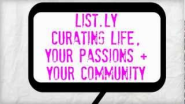 A short 2 minute animated video created using Powtoon.com A quick explanation of the problem of fragmented lists and the explosion or curated content and soc...
If you are curious about Powtoon, you can see my first sampler here (It took me an hour or two to learn and create)
Here's a review of Powtoons.  I'm a big fan in case that's not obvious.
I have since paid for premium usage and so I've removed the Powtoon logo and the Powtoon Outro. I paid $47  which gives me 1 months access to the premium tools. I think that represents awesome value. My guess is I'd have paid $2-6k to have this made professionally. If I'd paid for all the iterations that number would be heading to $10k. I guess I could have explored Fiver.com
This is a perfect case of the democratization of business animation videos. They have become mass accessible.
Powtoon Review
Powtoon Upsides:
Very simple UI
Fun rewarding experience
Intuitive
Stable
There are experts you can hire to make videos for you (I didn't try this, but I would now I know the tool)
Powtoon Downsides : Not these are mostly bypassable if you follow best practice
Each slide is 20 second long max and 20 items max. So just create more smaller slides.
It's painful to split a slide into two when you run out of time and objects.
You will try to cram too much in – just get used to allowing whitespace.
Imageholders can't be blank – I simple used a blank image to fill with white.
Imageholders can't scale or locate the image. You need to crop image before loading.
Powtoon Wishlist
I'd like more styles and objects and fonts to pick from.
I'd like to be able to colour the basic black & while objects.
Sizing an object is great, but I don't always want proportional scaling.
I'd love to play video inside an Imageholder.
I'd love some faces for image holders (or people with face holes).
I'd like to reorder the slides.
I'd like to be able to split a slide a say 10 seconds in and it do all the clever stuff to more the objects to the beginning of my new slide.
I'd like "Bring to Front" and "Send to Back" – moving an item 1 layer at a time is tedious. Why can't I simply drag and drop the object order below the timeline.
I'd love to see some of the movement that's possible in Toontastic.
It took my time to figure out that hand gestures only become an option when you pick left, right, up or down as the transition. So pick that first then you can enable hand gestures. This was not obvious to me.
It's not obvious that there's 20 object limit per slide. It makes sense. It just took me a while to figure this out.
Careful if you delete the soundtrack. You can't reload/undo. You can't export a soundtrack. You need to have an MP3 soundtrack to upload.
To create a voiceover I simply used Audioboo on my iPhone and then downloaded the MP3.. This gives me a 3 second countdown and then I hit "Play All". I tested and turned down the sound track.
I also used Audacity to take a basic soundtrack and stick it back to back. The soundtrack you use cannot be put into "Repeat" mode so you need enough sound for the entire toon.
I found it to be pretty stable. I did find some bug. I found saving to be very reliable. Duplicating a pontoon can be useful. I found Powtoon's support to be responsive and supportive.
I think it's a pretty darn cool tool. I do think it could become boring or repetitive if they don't give you variety.
One thing that struck me is CommonCraft have made a smart move. They took their early lead and have morphed themselves into a content company. You have to pay to licence and embed their content. I sense they foresaw the commoditization of their category.
If think Powtoon is further driving a trend to commoditize video animation.
How about your? Got any thoughts and experiences on Video Animation?